Old Baltimore
I hope to have links to detailed, high-quality
maps of Baltimore circa the various stages of Mencken's life. The best I've found so far dates eleven years before his birth.
The streets of Baltimore were renumbered in 1886
September through December. Polk's City Directory for 1887 has a table mapping from the new numbers to the old. In the addresses below, the original number is given with, if applicable, the new number in square parentheses following.
On Sunday, 1904 February 7, at 10:48, Engine Co.
15 received an alarm that there was a fire at John Hurst & Company. When the fire, dubbed "The Great Fire of Baltimore", was brought under control 31 hours later, 140 acres of central Baltimore, more than seventy blocks, encompassing 1,526 Buildings and accounting for 2,500 business, banks, enterprises and merchants,
were destroyed. When the area was rebuilt, streets were renumbered, adding a complication to those who wish to coordinate localities of old with present-day street numbers.

H.L. Mencken's Birthplace
Location: 380 [811] West Lexington St (Between Freemont and Poppleton), Baltimore, MD.
Remarks: Mencken's father,
August, rented a three story house for $16/mo. "Dr C. L. Buddenbohn, who fetched me into sentience at 9 p.m., precisely, of Sunday, September 12, 1880, apparently made a good (though, as I hear, somewhat rough) job of it, despite the fact that his surviving bill, dated October 2, shows that all he charged "to one confinement" was ten dollars." (Happy Days, pp. 6-7)

H.L. Mencken's House
Location: 1524 Hollins Street, Baltimore, MD (Between Stricker and Gilmore Sts, across from Union Square)
Remarks: HLM's boyhood home, and where he returned to in 1936 and lived out his life with his brother August. August lived in the house until his death in 1967 May 19. HLM's father, August, bought the house for $2,900 in 1883?. Before becoming a museum, the building was used for office space by the University of Maryland School of Social Work and as a residence for VISTA volunteers. With the closing of the Baltimore's City Life Museum, which ran the house, the Mencken house is now closed.
The house is not far from Edgar Allan Poe's
house and the wonderful B&O railway museum. Visiting all three makes for a pleasant Sunday.
Directions:
Take I-95 South.
Take right Exit 53: I-395 North / Downtown to Martin Luther King Boulevard and bear right.
The road bifurcates: the left goes to I-395 Downtown/Inner Harbor, the right, to M.L. King Jr Blvd/Russell Street. Do not head for the Inner Harbor. Keep right to go to Martin Luther King Boulevard.
Once on MLK Blvd, migrate into the left lane. Do not exit onto Russell Street but keep bearing left, to MLK Blvd / I-83.
Make a left turn onto West Lombard St.
Right turn onto S. Calhoun St.
Left onto Hollins St.
On your left
will be Union Square Park.
HLM's house is near the far end of the street.

J. F. W Dorman
Location: 217 East German Street
(changed to Redwood St during WW I)
Remarks: "On November 26, 1887 my father sent his bookeeper, Mr. Maass, to the establishment of J. F. W. Dorman, at 217 East German street, Baltimore and there and then, by the said Maass's authorized agency, took title to a Baltimore No. 10 Self-Inker Printing Press and a font of No. 214 type. The press cost $7.50 and the font of type $1.10.
These details, which I recover from the receipted bill in my father's file, are of no conceivable interest to anyone else on earth, but to me are of a degree of concern bordering upon the super-colossal, for
the press determined the whole course of my future life. If it had been a stethoscope or a copy of Dr. Ayer's Almanac I might have gone
in for medicine; if it had been a Greek New Testament or a set of baptismal grappling-irons I might have pursued divinity. As it was, I got the smell of printer's ink up my nose at the tender age of seven, and it has been swirling through my sinuses ever since."
"The press and type, of course, were laid in by my father against Christmas, and were concealed for the nonce in a cupboard at home, but my brother Charlie and I had a good look at them before early candlelight of November 27."

-H.L Mencken, Happy Days (p. 202-203)

Aug. Mencken & Bro. Cigar Factory
Location: 368 [0000] Baltimore
Street (This is insufficient information to determine the new address. More information real soon now.)
Remarks: In 1885 August Mencken moved his cigar factory from Baltimore Street to Paca Street.
The new factory burned down
in December, 1893.
The third factory came under the management
his Uncle Henry and his son. The firm of Aug. Mencken & Bro. went bankrupt in January 1926. The business was in poor shape for several years, but the precipitating event was Uncle Henry's bad investment in a western mining venture. The building was sold.

Episcopal Church of St. Stephen the Martyr
Location: 2400 West North Avenue
(between Moreland Ave. and North Warwick Ave.), Baltimore. The site is now (1999) occupied by St Stephen's Court Apartments.
"The Peabody Book Shop was opened in 1922 by Siegfried Weisberger, a self-educated man who immigrated from Austria in 1912, and his brother. Siegfried took over management of the store in 1931 and expanded it by adding a Beer Stube ("room"). Weisberger shared HLM's passion for Nietzsche and Beethoven."

Martin, In Defense (1996), pp. 366-367).

The Mencken Room at the Enoch Pratt Library
Location: Enoch Pratt Library, First floor Annex, 400 Cathedral St (Betw. Mulberry and Franklin St.), Baltimore, MD.
Remarks: The Mencken Room is closed to the public except on Mencken Day in September (on or about
Mencken's Birthday, 12 September) and by appointment.
Hours: Open during normal hours
on Mencken Day in September.
Directions: Enter the library through the Cathedral Street entrance. Go straight through, past the information desk, into and through "Sights and Sounds" and down the hall. Once you can't continue going straight, turn right and continue going until just before the African-American collection. The Mencken room is to your right.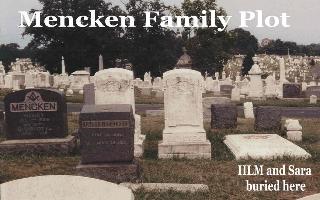 H. L. Mencken's Grave
"If, after I depart this

vale, you ever remember me and have thought to

please my ghost, forgive some sinner and wink your

eye at some homely girl."

— H.L. Mencken
A beautiful bird featuring a surprising set of color feathers.

Gravesite Directions
Loudon Park Cemetery, 3620 Wilkens Avenue, Baltimore, MD.
Note: The Cemetery office is in a building marked "Funeral Home". Stop there to get a map of the cemetery which notes twenty-five points of interest.
Hours: Administrative office:
Sun: 11:00 AM – 3:00 PM
Mon-Friday: 9:00 AM – 5:00 PM
Sat: 9:00 AM – 3:00 PM
Directions to the cemetery:
Take I-95 South (towards DC).
Take exit "50 A-B Caton Ave."
Bear right, "Exit 50 B—North—Wilkens Ave."
Merge onto S. Caton Road.
Go straight on S. Caton Rd, past St Agnes Hospital on your left.
Make a left at the light onto Wilkens Ave.
The gate to the cemetery at 3620 Wilkens Avenue will be on your right.
Directions to the gravesite:
The Mencken gravesite is in the northeast corner of section "W".
Come through the Main Entrance at 3620 Wilkens Avenue.
RIGHT onto the parking lot in front of the funeral home.
LEFT at the carport at the end of the Funeral Home.
RIGHT at the Fernwood signpost. There are mausoleums to your left. You will see the Stewart/Bowman Monument.
LEFT at the T-intersection. You will see the Livingston Monument.
RIGHT at the T-intersection at the Edgevale sign.
RIGHT at the top of the hill at the Edgewood sign onto a traffic circle.
RIGHT at the one-way sign (you will see the Depkin-Nelson Monument).
Go down the hill and across a bridge over a small stream.
Make the SECOND LEFT after crossing the bridge. You will see the signpost marked "YY" and the Eidman Monument in front.
At the "X" signpost jog RIGHT then LEFT.
After perhaps 100 feet keep an eye out on the left side of the road for a dark, stubby granite obelisk-style memorial for "Smith".
Right next to the Smith family plot is the Hensel family plot.
The Mencken family plot is behind the Hensel family plot, the headstones facing away from the road. HLM's ledger-style gravestone is a large plate on the ground.
Remarks: Real fans of HLM may want to bring a gallon jug of water and brush with stiff plastic or straw bristles in order to wash and sweep out the debris which accumulates in the relief-work of HLM's ledger-style gravestone.
"Her [Sara's] ashes are buried at the foot of the grave of my mother, and beside her there is room for mine. Thinking of her, I can well understand the great human yearning that makes for a belief in immortality, but I do not believe in it, and neither did she. We have parted forever, though my ashes will soon be mingling with hers. I'll have her in mind until thought and memory adjourns, but that is all … We were happy together, but all beautiful things must end."

— HLM, Diary, Entry for 1940-05-31, p. 143.
Memento mori.
Map: Find-a-Grave
© The Mencken Society 2022